Switch user:
---
Apr. 2021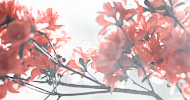 staff
Head Admin Xaria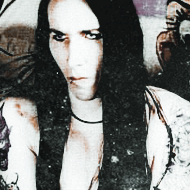 Head Admin Jules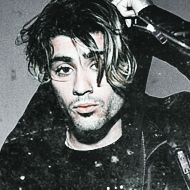 Admin Sky
Who is online?
In total there is
1
user online :: 0 Registered, 0 Hidden and 1 Guest
None
Most users ever online was
25
on Wed Aug 23, 2017 12:06 am
Credits
Site skin & graphics by Xaria. The Harry Potter franchise belongs to J.K. Rowling. All original characters belong to the respective user that made them along with their posts. No copyright infringement intended.
Azazel sighed as he walked down to the lake. He could not take that he was not allowed to move on from what he did. Yes he made a mistake but being under the control of the death eaters for so long. He did not know right from wrong like anyone else he really only knew what the Death Eaters had taught him and that was to react or die. Once at the shore of the lake he looked at the waters. He wanted to just jump in and end it all. Though was the right thing to do? He wasn't sure any more he just wanted to do the right thing and well every attempt to do that he found himself making a mistake that set him back more then he moved forward.

Was he destined to always be a Death Eater? Was he a monster? He had no idea any more. The one thing that made him happy was starting to slip out of his grip and he did not know if it was anything that he did. His mind was currently his worse enemy it kept telling him that he was not good enough. That no one wanted him. He did not want to think these thoughts but he could not get out of his head the more he tried the deeper he spiraled. Azazel closed his eyes and took a deep breath as a single tear fell down his cheek. If he was to end it all would anyone miss him? James may but he was becoming distant as of late so he wasn't sure any more.

He just wanted the pain of having to live the day that he made a mistake and casted an unforgivable to end. He wanted to make everything right. To do that did that mean he had to end his life? If so he would do just that. He sat down on the shore still not being able to just jump. He was not sure why, he was not afraid to jump. There was just something that was holding him back yet he couldn't figure out what it was. He sighed and turned his head to the sky and just screamed. Why could he not just share his thoughts with those that were close to him? With the school's councilor? He knew why he was scared that he would be jusdged and he had enough of others judging him. So he let his feelings simmer deep inside of him until they pushed him to just about do the most drastic thing.

Azazel looked at the waters as it ripped as the wind blew across the water. It was peaceful and he did not like that. Inside him was a hurricane of emotions. Emotions that he had never felt until he met James. Why did things have to be so hard? He honestly did not know any more. After a few more minutes he got up and walked back to his cabin to be on his own as usual. He was better on his own after all. He could no longer trust anyone and let anyone in. He was to be forever alone. A piece of him would always be James' but he was not sure if the boy wanted the broken piece of glass that he had become as of late.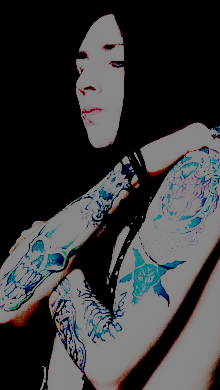 Alias

:
Jules
Posts

:
28
Blood Status

:
Pureblood
occupation

:
student
Sexual Orientation

:
Bisexual
school

:
hogwarts
Faction

:
death eaters
face claim

:
marilyn manson
gif 2

:

Slytherin Seventh Year

James had been feeling conflicted when it came to just about everything these days. He had been enjoying Evelyn's company a lot even though he was still technically with Azazel. As of recently, he had felt a great yearning towards music even though that was often an interest he had kept to himself as he knew many people were expecting him to follow in his father's footsteps and become an auror. Of course, his father managed to get thrown into Azkaban for whatever reason. That made things feel a lot more difficult for him.

Why would things feel so arduous? Hadn't he become quite distanced from his father over the years? These past few months especially? James sighed as he found himself walking to the Black Lake with a guitar case and notebook in hand: two things he usually kept collecting dust in his trunk during the school year. He needed to get away. Away from the constant drama in the Slytherin house. Away from the crowded air of Hogwarts. Away from everything that was eating his mind.

He looked around as he saw the school become more distant from his line of sight as he got closer to the Black Lake. He would've gone to the Forbidden Forest as it was the quietest of the outdoor grounds, but it just wasn't the right atmosphere to attempt to respond to music's calling. James looked down at the snow-covered ground before looking back up. There was already somebody else at the lake. It quickly seemed as if he would have some company during his musical and introspective escapade.

James squinted at the sight of the person at the edge of the shore. Why were they just standing there like that? What was going through their mind? It definitely seemed as if the other person was also trying to escape from whatever thoughts was occupying them. He quietly approached the direction of the person only to end up sitting a few feet away from the other opting to observe instead as he worked on a song or two.

He found himself constantly looking up and down at the other before it hit him: it was Azazel. "Azazel... Are you okay?" He watched as Azazel walked in the direction of his cabin. Personally, James didn't feel like getting up from the spot he found perfect to write some music at. "Azazel!" James called out as he set his guitar case down and placed his notebook on top of it.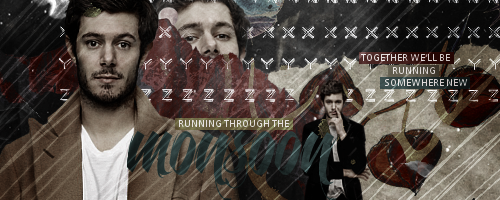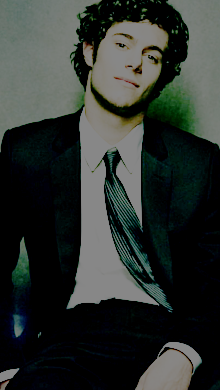 Alias

:
Xaria
Posts

:
226
Blood Status

:
Half-blood
occupation

:
student
Sexual Orientation

:
Pansexual
school

:
hogwarts
Faction

:
neutral
face claim

:
adam brody
gif 2

:

Slytherin Sixth Year

Azazel sighed as he heard James calling after him. He just wanted to keep walking, though a part of him wanted to stay and talk to him. He just wasn't sure any more what he wanted m part of him wanted to still be in his own mind. However his want to talk to James won over and he turned around and walked over to his friend. "I think we need to talk." He said as he sat down beside him. He still was distant as he did not know what was going on between the one he loved, and that Hufflepuff. He was feeling like he was lost and did not know where he was going, or if he should even keep living.

Looking at the other as he studied him for a few moments before speaking again he just needed to know how the other felt. "I want to know if for sure if we are over. Or what is happening between us? I cannot stand not knowing any more. I feel that if I am not with you there is no sense living, As you are the only one who I felt that I could be myself around." He said emotion was raw in his voice. He was both concerned and angered that he may lose James the one person he felt that he could open up to.

Azazel looked over at the lake he couldn't do this anymore, he couldn't go on not knowing. He had to know what his status was with the young man who he had given his heart to. He just felt like that he was a piece of trash that he was being tossed aside for something new. He couldn't handle the feelings that he was feeling currently he just wanted it all to end. If James did not want to be with him he would kill himself as he did not want to bother anyone any more. He did not want to weigh anyone else down with his burdens, with his pain and sorrow.

He sat there quietly as he waited for the other to respond his pain and anger was radiating off of him. He sighed again as he hoped that he could have an answer that he wanted though he was not sure any more. His mind was not clear as he tried to think he just got pain so he just gave up. Trying to clear his mind was useless as he just wanted James though he did not know if the other wanted still wanted him. He just could not think of life without James.

Azazel closed his eyes as he tried to focus on happy thoughts. Though he couldn't his mind just did not want to cooperate with him. He turned and faced James again noticing the guitar that was new. He did not remember James playing the guitar when he was around him.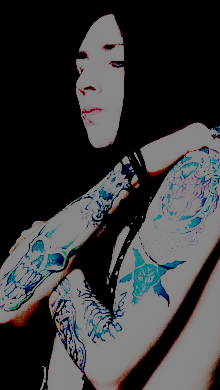 Alias

:
Jules
Posts

:
28
Blood Status

:
Pureblood
occupation

:
student
Sexual Orientation

:
Bisexual
school

:
hogwarts
Faction

:
death eaters
face claim

:
marilyn manson
gif 2

:

Slytherin Seventh Year

He looked down and sighed. "Yeah... I've been thinking that too..." James didn't know how to deal with his own confusion about his feelings or his feelings about everything in general. While becoming more of a recluse, he had also been reaching out more. It felt as if he was living in a paradox. Why couldn't everything just be in black and white at that moment? It would make existence so much simpler. "Everything has just been wild lately... I feel lost. Confused. It's almost as if my life has been stuck in a vacuum."

"I don't know the state of our relationship..." James found it hard to even mutter how he felt about Azazel. A part of him had become apathetic while another part still yearned for the other. How could he explain himself if he didn't even know how he felt? He didn't want to hurt Azazel, but he didn't want to lie or give false hope either. "I still care about you. It's just..."

James began to tear up. What was he going to do? There wasn't anything he could really say to Azazel. Why did he have to be like this? Why did he always have to question himself? He began to scratch his neck out of nervousness. He looked back down and rubbed his temples trying to not get too lost in his own thoughts. Sometimes, James found his brain dangerous. It wasn't as if he'd really consider harming another, but it made him feel emotionally self-destructive.

"It's just that I'm not sure if I'm still in love with you. I still love you in some way..." Oh, what was he getting at? It's not like Azazel would comprehend what he meant very well; he knew how emotionally delicate the other was from all of the time they had spent together over the past few months. James grabbed his lyric notebook and got out a pen and began to write in it hoping that it would maybe help him figure out how he felt about everything.

"I'm not ignoring you, but have you ever wished you were two people?" James wondered. "Sometimes, I wonder what it would be like to be two people. I wouldn't be stuck so confused maybe. I could be able to do whatever with no conflicting feelings. In a way, I wonder what it'd be like to be my own twin..." Once he finished writing the lyrics, he sighed and opened up his guitar case pulling out an acoustic guitar. "Since I'm clearly unable to express my own thoughts properly while speaking..."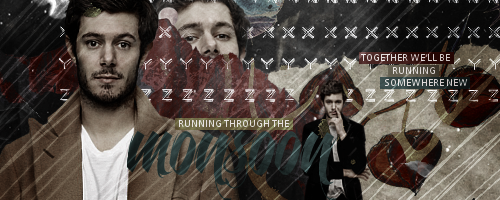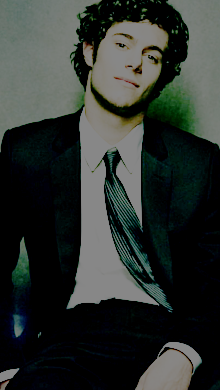 Alias

:
Xaria
Posts

:
226
Blood Status

:
Half-blood
occupation

:
student
Sexual Orientation

:
Pansexual
school

:
hogwarts
Faction

:
neutral
face claim

:
adam brody
gif 2

:

Slytherin Sixth Year

Azazel sighed as he listened to the other he was not sure exactly what the other was saying though it seemed like it was over he knew he shouldn't have got himself into this. This was why the Death Eaters taught him to control his emotions and not show them he just should not have broke down the walls for the other. He should not have let himself fall in love he was just being silly thinking that someone would actually care about him. He would and always be alone he should of just accepted that instead of trying to pursue a relationship and get his heart broken.

He could not take it any more he wanted a straight answer and well it did not seem that he would get that he stood up and began to walk back to his cabin there was no sense being near him if he did not care for him. He could not handle where their conversation was going and he was done trying to communicate he just couldn't right now he thought that he could but that was not what he wanted to hear.

He however ended up on his knees crying just a few feet away. He just couldn't move he was an emotional wreak and it was all his fault that he let that someone so close to him. He should have kept his distance and none of this would of happened. Azazel just could not deal with this his heart just ached to be with the other but he couldn't handle the betrayal that he was feeling. He felt like he just wanted to be by himself though he couldn't he just wanted James still yet he didn't. This was so hard he wanted to cut ties with James yet his heart still yearned to be with the other.

Within a few minutes he began to rock back and forth trying not to drop into the fetal position he had to be strong, though how could he if he was so broken. Was it worth it to let himself completely break like piece of glass? He wasn't sure he sure wanted to yet he also wanted to not let the other know how much he hurt.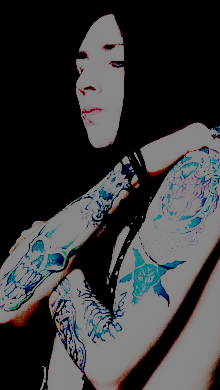 Alias

:
Jules
Posts

:
28
Blood Status

:
Pureblood
occupation

:
student
Sexual Orientation

:
Bisexual
school

:
hogwarts
Faction

:
death eaters
face claim

:
marilyn manson
gif 2

:

Slytherin Seventh Year

James began breathing heavily noticing that the song didn't make things better. Dammit, James! What the hell was wrong with him? Why did he have to be such a dick? Why did he make a dick move? Sure, he didn't intend on being a dick, but it was obvious it felt as if there was a point of no return for just about anything at the moment. "Azazel..."

He watched as his fiance or whatever became an emotional wreck. Were they even still engaged at this point? James felt awful. Why did he break Azazel's heart like that? He knew Azazel didn't have the strongest skin, so why did he bounce along and assume a song would make things even the slightest bit better? Fuck. He hated how confusing everything was. At this point, if James could, he wondered if he could back in time and make sure he didn't meet Azazel. Okay, sure, his thoughts were scrambling around irrationally out of anger, but what else could he do? Just one wrong move and he could end up being avada kedavra'd by his own fiance or whatever.

Putting his guitar away, James placed his head on the palm of his hand and started to tear up. This was all his fault. Was his father actually right about everything? Right about Azazel? James had no clue, and he didn't know if he wanted to find out. He wanted to just run away from Hogwarts. He just wanted to run from everything, but he couldn't. What could he do? James glanced at the lake in front of him. Should he...?

He began to think about what could happen. A pro would be that he wouldn't have to hurt anyone like Azazel ever again, yet he knew his family would miss him. Why did everything feel so complicated? Why couldn't one little thing even make a difference? James sighed and glanced towards Azazel who was a clear emotional wreck. "I'm sorry... For everything..." A few small tears began to run down his face, but he couldn't be bothered to clear them. What the hell was he going to do? He wasn't going to just leave Azazel there exposed to the elements doing who knows what, but he didn't want to inflict more wounds than he already had. "I understand if you hate me now..." He felt as if this whole relationship was a mistake as it had come down to this.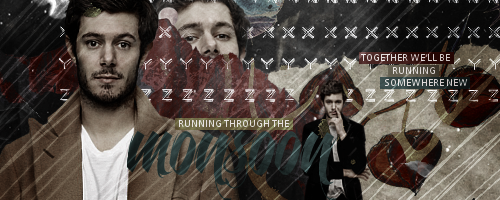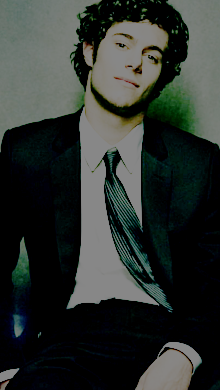 Alias

:
Xaria
Posts

:
226
Blood Status

:
Half-blood
occupation

:
student
Sexual Orientation

:
Pansexual
school

:
hogwarts
Faction

:
neutral
face claim

:
adam brody
gif 2

:

Slytherin Sixth Year


Similar topics
---
Permissions in this forum:
You
cannot
reply to topics in this forum